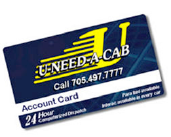 Let us make your life easier!
There are a number of ways we can make getting around North Bay and area easier and more efficient for you. Don't see a solution to your unique transportation need? Call us, you'll be surprised how accommodating we can be!
Corporate Accounts
U-NEED-A-CAB corporate accounts are simple, trackable and easy to use with our handy swipe cards. Detailed trip reports and monthly invoicing means North Bay businesses always know what's up.
Pre-paid Accounts
Available for family or individual use, U-NEED-A-CAB Pre-paid Accounts are a simple and convenient way for you or your loved one to get where you need to go safely. Call today to learn about all the benefits Prepaid Accounts offer!
Special Event Accounts
Whether you're planning a wedding, staff Christmas party or any other shindig, let us taxi your guests home safely and efficiently. You can set up a charge account and pick up the tab, or maybe you just want to give us a heads-up so no one has to wait around. Call today!
Shuttle Service
Have your own private van at your disposal when you book the U-NEED-A-CAB shuttle service for 3 hours or more. Complete with your very own driver, our exclusive shuttle service is all about you and perfect for your company function or special event. Just don't let it go to your head!
Account & Events Inquiries